Prepare. Survive. Defend.
Learn to defend yourself during a home invasion.
Hone techniques to counter a real-world attack.
Get out of cuffs, zip ties, or duct tape binds … FAST.
---
Train Now
Learn More
Here's the scenario …
Somebody is outside of your home and is attempting to break into it.
Do you know what to do?  Do you know how to defend yourself?
You're in the parking lot at the mall, and three guys start to circle you.
Do you know what to do? 
You're walking through the park and you get grabbed… now somebody is trying to pull you behind some bushes.
Do you know what to do?  
A man tries to stab you.
Do you know what to do?
You've been handcuffed and thrown into the trunk of a car.
Do you know what to do?
You have a gun to your head, and there's no way out.  You have to do something.
Do you know what to do?
You've been attacked.  You didn't see it coming, and now your hands are duct taped together and you are stuck in a room.
Do you know what to do?
---
Protect yourself and your family with a tactical approach.
Get instant access to our training on handcuff escape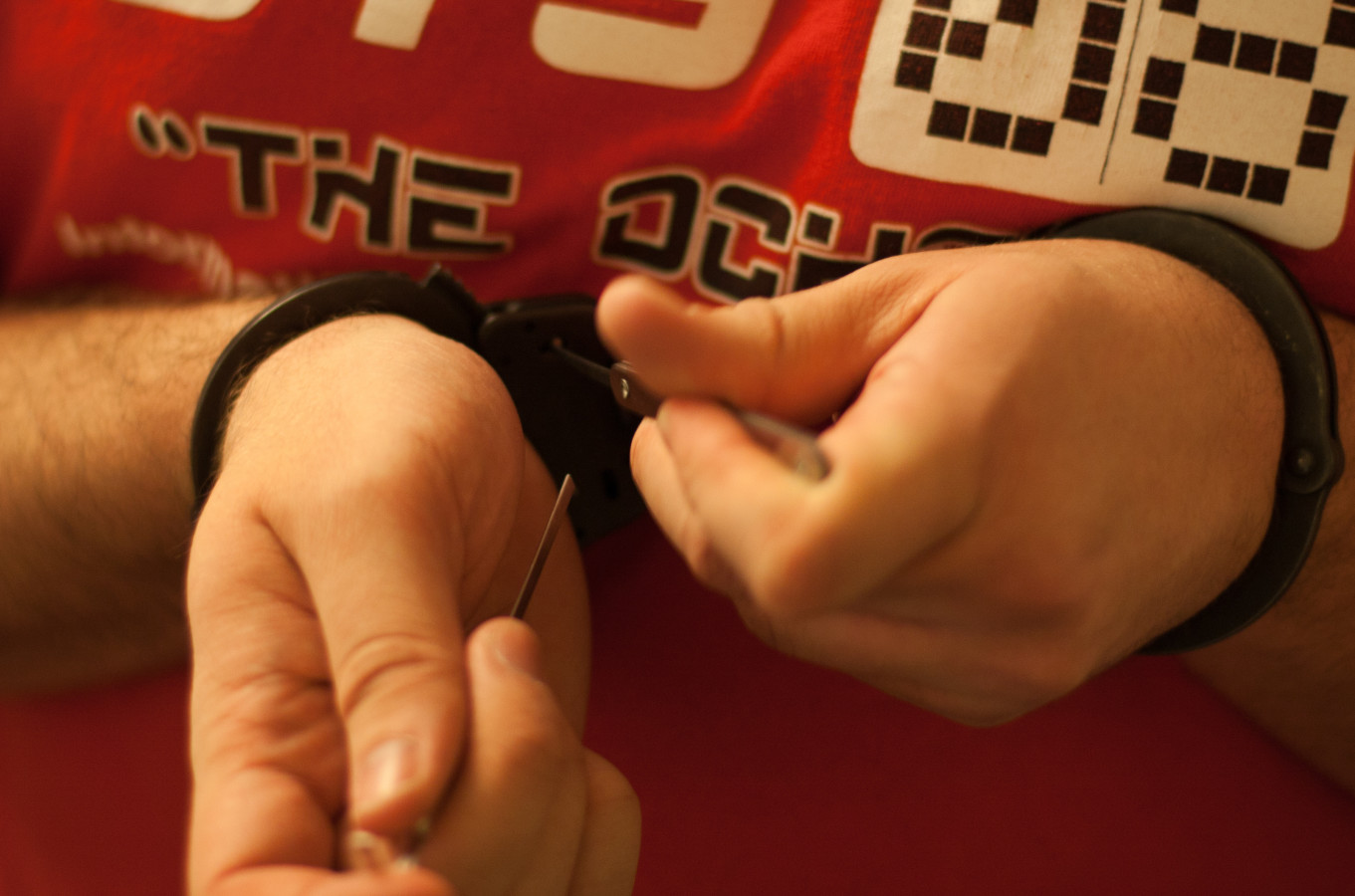 Escape handcuffs in 60 seconds or less!
Former police officer and martial arts expert, Darin Reisler, teaches you the self defense skills to survive real-world crisis situations.
Learn how to respond if you are the victim of a home invasion
Learn how to escape from handcuffs
Learn how to break free from zip ties in seconds
Learn how to quickly sever duct tape and even rope binds
Learn how to defend yourself against real world attacks – like chokes, grabs, and punches
Learn about the basic survival tools you should have on you at all times
People should stick to teaching what they know, and and after 30 years of experience, with black belts in seven different martial arts styles, this is what I know.  As a former police officer who has dealt with people who have been victims of horrible attacks, and as a man who has personally seen how criminals work, this is what I know.  I know how to teach you to protect yourself and your family.  As somebody who has been in multiple real life self-defense situations, self-defense is my area of expertise.  As a professional martial artist who trains police professionals, federal agents, and even housewives how to protect themselves as my full-time job … this is what I know.
As one of the foremost authorities on the topic, with real world experience, I would like to teach you practical, tactical measures that will help you live a healthier, happier, safer life.
What's in the course?
That's over 7 hours of material
Easy to navigate, watch, and review later
Teaching you how to survive
Meet Darin
I am 5'7" tall- if I stand really straight- and I weigh 132 pounds.  As a former police officer, there were many, many times that I ended up getting into altercations.  When you're my size, and you tell somebody that they are under arrest, and they know that means they are going to end up going to prison for the next ten years, they tend to look (literally down) at you and think, "Hmm… if I get through this little guy, I don't have to go to jail."  By default, that means I have a lot of real world experience with self-defense scenarios!  In fact, my first call, straight out of the police academy, involved a man who had just received his final divorce decree, and his now ex-wife had called the police saying that he was at the house and he was going to kill her.  After I arrived on scene, I was fighting with the perpetrator within seconds, and I learned quickly that a lot of what I had been taught about self-defense worked in "theory," but it did not work in "practice."  I spent the next several years honing, refining, and learning how to bridge that gap between theory and reality.  (That was the first time that I was involved in a real world home invasion / self-defense type of scenario.)
As a martial arts expert with over thirty years of experience, and black belts in several different styles… who is a former police officer… who now runs a full time martial arts school with over 450 students… I bring real world experience, along with my martial arts expertise, to you in a fully featured package.  The Home Invasion and Tactical Urban Survival (HIATUS) course provides you with a holistic approach to safety both in and outside of the home.  It is composed of over 7 hours of the most common attack/response scenarios and thorough training in regards to real world dangers.
Additionally, the HIATUS Network continues you down the path and provides you with weekly instructional videos that can help you feel safe, be safe, and stay safe.
H.I.A.T.U.S. TRAINING
Criminals won't take a hiatus …
… but YOU should.
Online self defense courses can cost $500 or more. For a fraction of the price at just $80, you can take this course from the comfort and safety of your home.
Learn skills and techniques that could save your life
Give your family the gift of security and peace of mind by knowing how to respond
"Great insight and overview of simple but needed information to keep us better prepared for life!"
— Dean, Student
Take H.I.A.T.U.S. training online now for the reduced price of $80.00.
It could save your life.